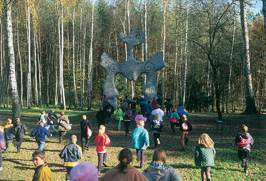 Javier Cruz. Woman Looking at the Moon
THANK YOU
The birth of many of the World's cultural monuments has been possible thanks to people who have understood the role of art and have supported it. All of society has benefited from such patrons, as it can see the works of geniuses that would never have appeared without patronage. Moreover, countries where patrons have supported art, can today be proud of their cultural uniqueness and abundance of quality art.
We have succeeded in realizing a vision, which twenty years ago seemed impossible - to found an open-air museum of modern art, which would exhibit the works of the most famous artists in the world. Our dream came true thanks to caring people, who understood the importance of opening such a museum and supported this idea.
We are very thankful to all who support Europos Parkas - enterprises, institutions, artists and all the visitors of the park. Thank you for your confidence and generosity.
Gintaras Karosas
President
For more information, please contact hq@europosparkas.lt or call (370 5) 2377 077.